Marketing's big challenge is to synchronize people, processes and technology to deliver contextually relevant right-time, right-target messaging. Do this and your targets will make the time to engage and entertain your value proposition.
This was my takeway after contributing to the panel discussion at the Melbourne session of marketing guru Jay Baer's Sitecore-sponsored ANZ tour last month.
If your target is "too busy" to return calls and/or respond to email traffic, then you are not sufficiently relevant.
Jay's high concept is "Youtility", marketing he describes as "so useful people would pay tor it". He says we have to be prepared to "embrace the power of eventuality". "Relationships come together over time, typically these are micro interactions," Jay says. "Eventuallity" may be the right way forward, but it requires a high degree of organisational and cultural maturity and patience.
Here are Jay's principal bullet points:
Audience attention is fragmented
Marketing and customer service has converged
Marketing is now a spectator sport
Stop trying to be amazing and start being useful
If you are useful, your customers will keep you close
Stop aiming at "top-of-mind" awareness and move to "friend-of-mind" awareness
Relationships must be based on trust and value
Smart marketing is about help not hype
From friction to research
We hyper research everything because we can
67% of the B2B purchase process is conducted online – Sirius Decisions
Relationships are created with info first and people second
If people have to call you to buy from you, you are doing it wrong
The better you teach the more you will sell
It is way easier to get caught now. The truth will always come out.
Trust is the filter through which all business success must pass
Differentiate with transparency
Humanity is the ultimate trust builder
92% trust recommendations from friends and family. 47% trust advertising – Nielsen
Don't' just change the message – change the messenger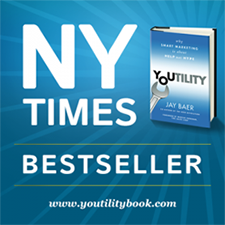 Posted In:
Attitude
,
Change
,
Collaboration
,
Content Marketing
,
CRM integration & utilisation
,
Customer experience
,
Digital marketing
,
Engagement
,
Experience
,
Trust
,
Value